Kidwell Motorsports
qa-1 Authorized and Recommended Rebuilder and Retailer
Drag racing is the heart of our business. We service all QA-1 and HAL shocks and struts, give quick service (most are turned around the same day they are received) at reasonable prices. If you have Stocker Stars rebuilt that are not R Series, we will upgrade to R Series during a rebuild if you wish. We will contact you if we find any additional problems during the rebuild before spending any of your money. All rebuild shock are returned with a Dyno sheet included. Fast service, reasonable pricing and hassle free service plus a Dyno sheet...you can\'t beat a deal like this!!!
Â
317 507 5968
Call for Pricing
Kidwell Motorsports
910 Gallant Road
Attalla, Alabama 35954
kidwellmotorsports@rocketmail.com
QA-1 builds very good shock at reasonable prices for hobby stock, Modifieds and late models at very competitive prices in both Twin Tube and several models of Gas Monotube shocks. QA-1 is constantly developing new internal parts that can improve the performance of your current shocks. We are competitive with the large retailers pricing plus we build the shock to your spec in house if you like. We furnish Dyno documents with all shocks we service or will Dyno yours to check them out. Also we do NOT "kiss and tell" others about your shock valvings. We have built and drove race cars for over 50 years and use this experience to work with you.
QA-1 offers several excellent choices for Street Rodding including single and double adjustable aluminum body and sealed chrome body shocks. We repair all HAL and QA-1 shocks and if you find some at a swap meet or on Ebay we can bring them back to original operating condition at reasonable prices. If your shocks are over 3 years old or have 6000 miles on them we highly recommend having them serviced. Call and set up a time for us to Dyno them and and have a Dyno sheet to help you adjust them for your driving style.
Q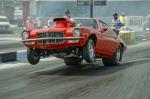 Double-click to edit text, or drag to move.
Double-click to edit text, or drag to move.